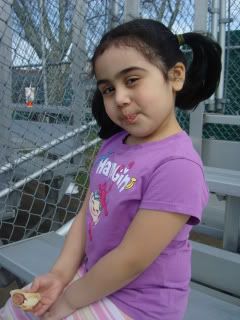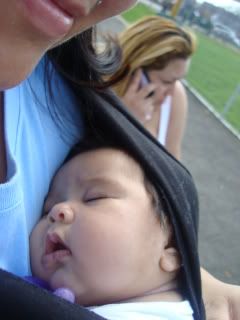 We went to Iso's 1st game Saturday. Too bad they lost :( That's ok though, they're getting better. It was so nice out, I think almost 80 degrees. It was just the girls, Kyla, Mia and myself. Of course, all Mia did was sleep in the wrap. Darius was at Joselo's house, stayed for the weekend and Ralphy was working. It sucks that he's at work all the time, but at least he's working now and hopefully for a while.
Sunday, we went to the GoGreen Expo in NYC. It was pretty cool. I went by the gDiapers' booth with my little gbaby of course. I saw the cute little pink with ruffles cover...super cute. After that we went to St Marks to get some frites and San Loco. We haven't had that in a long time! It was so yummy!!
It's been raining all day today. I had planned on running some errands today with Mia not counting on the weather. I had to leave Mia with my mom so she wouldn't get wet and get things done.
Right now, it's pouring. I should be sleeping but I'm waiting for the diapers to dry. I feel like I've been washing diapers all afternoon. They had to be stripped since I noticed a bit of ammonia smell after they dried the first time. Hopefully, they dry soon so I can put them away. Or they can just stay in the dryer until tomorrow :)